Visit the Emergency Assistance page for more information about emergency shelters and emergency food resources.
Outreach
Our staff reaches out to form relationships with those in the greater Somerville & Arlington communities who are experiencing street homelessness. We work with other providers to visit areas where homeless people gather and encampments where they sleep. Our staff helps them find shelter, food, and other resources. We offer case management services and can help clients find healthcare and detoxification services.
Meet Hannah & Joe
For several years, Hannah has been working closely with our client Joe, who has been living on the streets for many years. A short time ago, Hannah and our Outreach team were doing their weekly visit to the woods where Joe lives. It was Joe's birthday, so they celebrated  with cupcakes and Hannah help him fill out his first housing application since they started working together.
Hannah is our Emergency Services & Shelter Manager. In 2018, she helped launch our Outreach program, and has worked tirelessly for the past four years to foster meaningful connections with our clients living outside and provide them with resources, supplies, and compassion.
"I keep turning up for those specific moments when our clients want to move forward. My team shows up every day and we wait for the moment when someone feels like they deserve to move forward in life again." — Hannah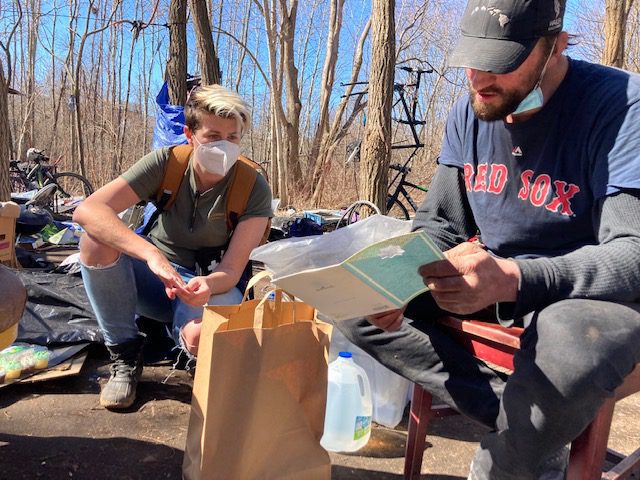 Shelter
Our Shelter is a transitional living community where individuals who were experiencing homelessness can live while they work with our case managers to find permanent housing. Through our Outreach & Shelter programs, we work closely with clients on their journey to finding a home. No matter what, we never give up on our clients
Adult Shelter
Somerville Homeless Coalition has 16 beds for individuals. Guests are all assigned to case workers who help them find permanent housing. People may self-refer to the shelter but you must call (617) 623-2546 everyday and leave your name and number.
While our shelter relies on self-referral process, turnover is low and capacity is limited, so we encourage people to be patient and consistent in calling everyday to find a spot.